Friday, January 28, 2011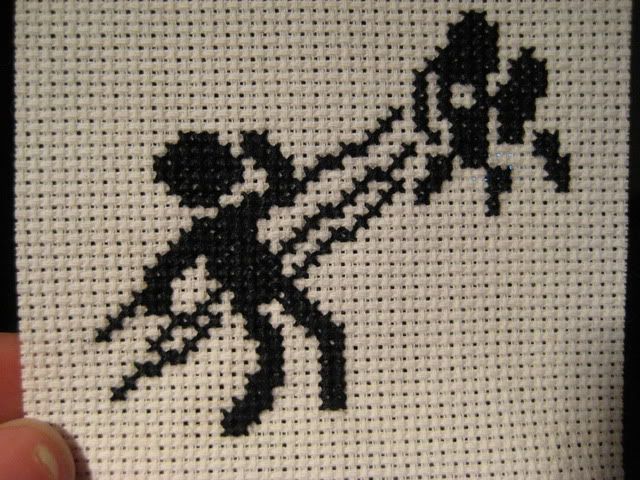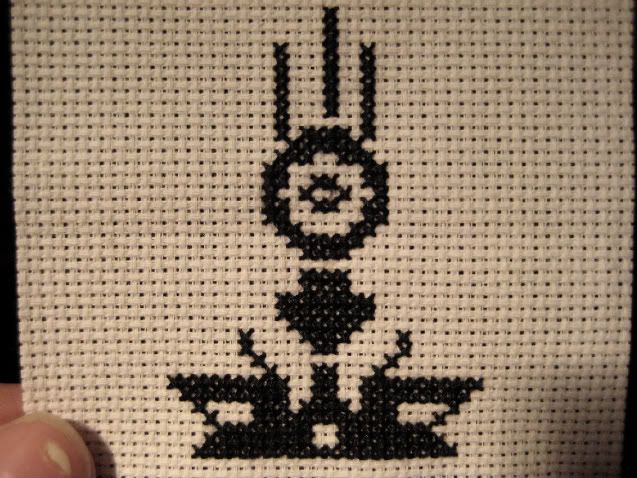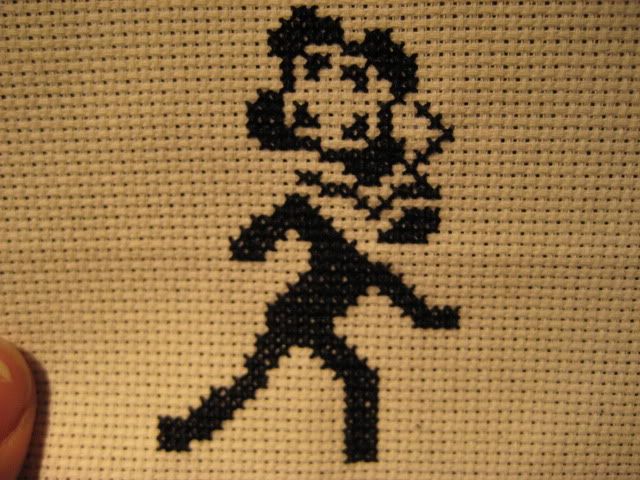 Part one was completed all the way back here:
We Do What We Must Because We Can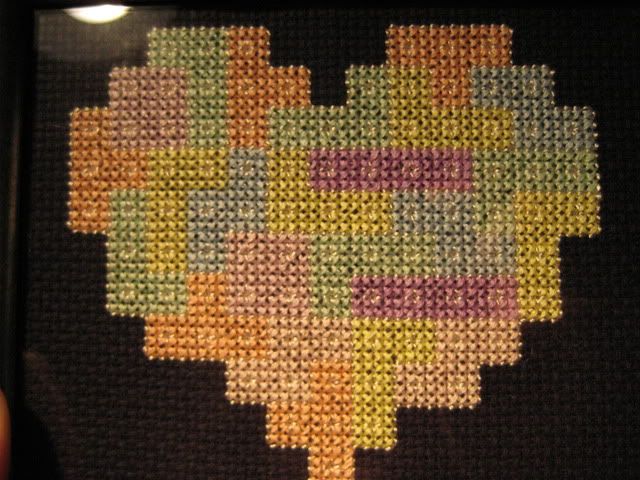 I love the look of black aida, but I didn't really like the finished look with this piece, it just didn't pop properly. Pattern is the same one for my previous tetris heart, which when I'm not half asleep and on my slow computer I might even link to -- but I enlarged each block to be 4 instead of 2, making it bigger.
I outlined everything and put some detail into each block using a shiny white thread, which was an absolute pain to back stitch, let me tell you. Totally best off using a shorter piece of thread than you usually might to stop it getting tangled.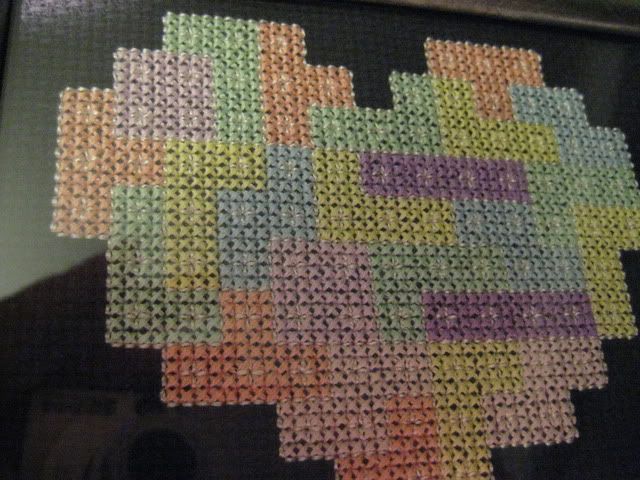 A photo of the white shiny detailing.
And showing off my macro setting on my camera, an obscene close up!
Monday, January 24, 2011
I felt like cross stitching yesterday, so I made a Kirby :)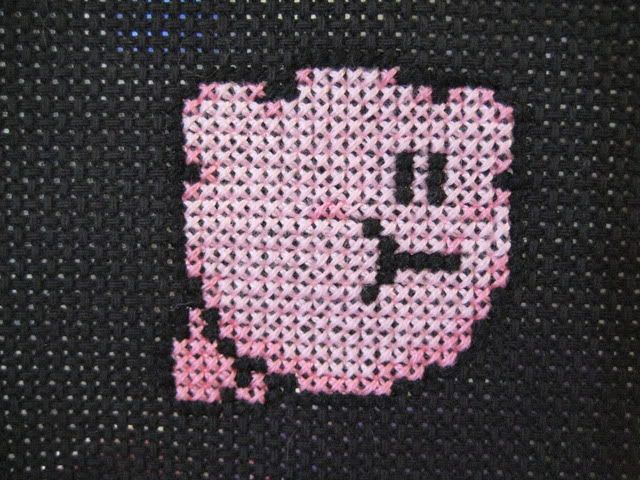 I'm making a background, and its awesome but I'm not showing it until its done, and I could postpone this post until it IS done, but I feel like posting now. :P
ETA: Updates! And finishing touches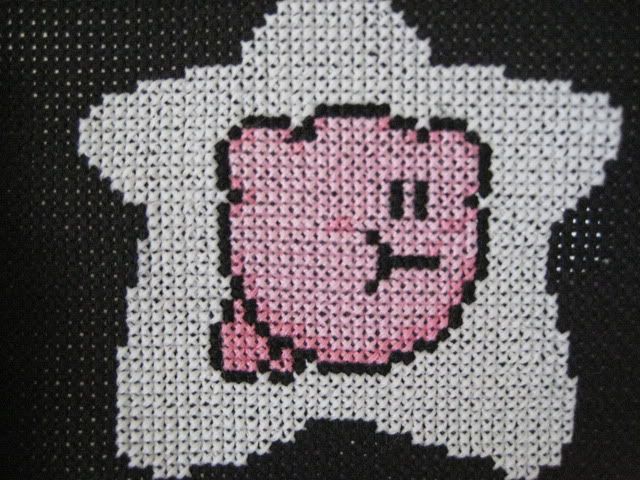 A pretty white star bg... THAT GLOWS IN THE DARK!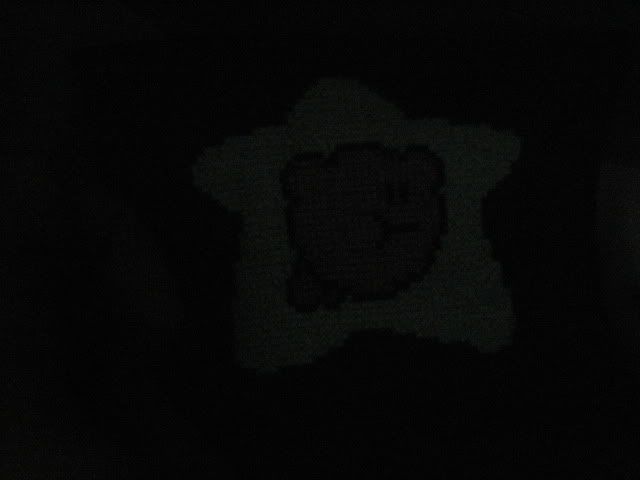 Yes, it's a crappy picture, but its hard to get a good glowing photo at any time let alone in the middle of the day. :)
Saturday, January 15, 2011
For starters, Merry Christmas, Happy New Year and all that stuff.
I got a bit busy with all the Christmas things, and then working pretty solidly since (just had my third day off since boxing day) so my craft time has been limited, coupled with the fact that I went on a huge reading kick...
But I'm back! With a Shark Hat.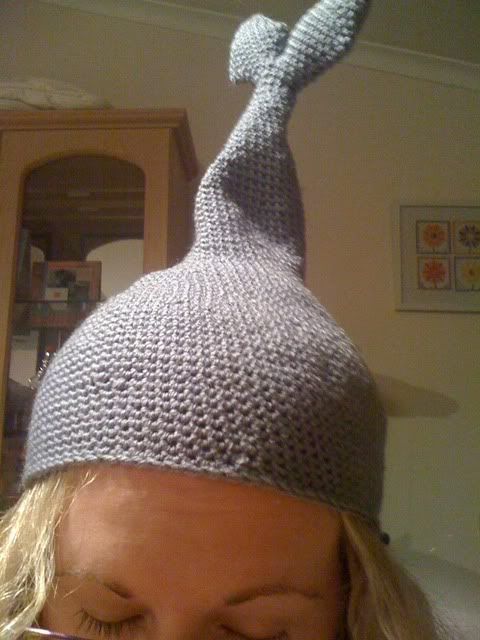 That is me, wearing my half completed Shark Hat. At the moment its just tail and body/hat but I'm finished that part and now just have to make the fins!
Here it is lying flat: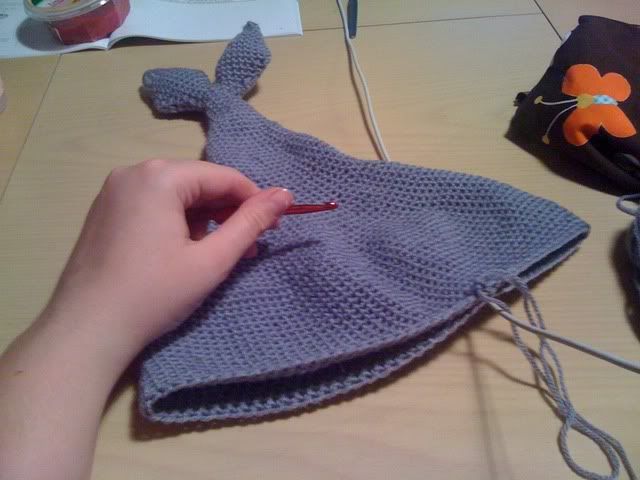 I based it on
this pattern
but that hat is for a kid, and I wanted it to fit an adult.. or rather, me. So I made it up as I went along, and could never ever write a pattern for it because it was mostly 'oh, lets increase here, and a couple more times in the next couple of minutes" which might have been spaced over three rows, or just one, I'd never know.
Not sure if I want to do the teeth the same as that pattern, or if I want to make up another way. Trial and error I guess. :)
I've got a sewing machine in the boxing day sales ($300 down to $80!!) and acquired some circular knitting needles, and a whole heap more wool and some embroidery floss, so I'm coming up with some projects to play with all my new pretty things! :)